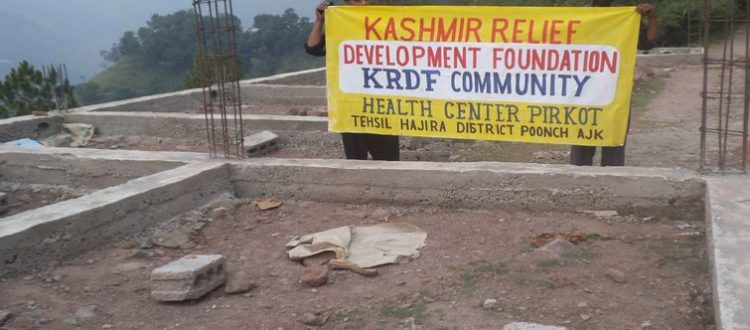 Pirkot is one of the most rural areas of Kashmir which has very limited access to health care which therefore means the hygiene conditions of the local community are extremely poor. The locals which live in this area are deprived of basic health facilities. The more far flung and mountainous areas of Azad Kashmir have such remote access to the health care thus meaning that in a population of over 5000 people there is only one doctor available.
Keeping in view with the vast gap in the primary health sector in this area, KRDF came forward to contribute towards bridging this gap. KRDF felt that the majority of the local population in Pirkot is in need of basic health care. We feel that building a health centre to cater for the local community
is a dire need.
The village of Pirkot is 20 kilometres away from Hajira and 30 kilometres from Rawalakot City. The population of this village is 75,000. There is no accessible medical facility is in this village. Neither the Government nor any NGO has provided a dispensary or first aid centre. The people have to face lot of difficulties to get treatment and medicines. For anyone in needs of healthcare the journey to the nearest centre is quite treacherous.
Location:
Village Pirkot. 
Union Council: Sarrari ,Tehsil Hajira District Poonch Azad Kashmir
Distance: Village Pirkot to Hajira : 20 Kms
Pirkot to Rawalakot City: 30 Kms
Hajira to Islamabad: 150 Kms
Proposed Cost: Total Covered Area 1467 sft @ 2000 per sft Rs 29,34,000
1 Bed Room along with kitchen and bath (Residence)
1 EPI Room
1 Doctor Room with bath
1 Medical Store
1 Lady Health visitors room
1 Waiting Area