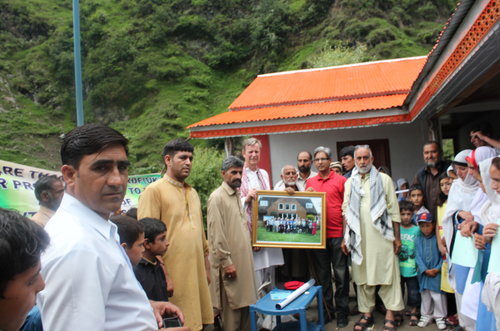 Village Ain Ban is one of the deprived remote areas of the district Hattian Bala AJK. It is densely populated villages comprising of 6500 individuals and some hamlets of other revenue villages are also adjacent to the village which constitute huge population of the area.
Ain Ban is located in the groove valley on the bank of stream Qazi Naag. During heavy rains and flash floods it becomes hard to access other areas from the village.
The only primary school of the village had no building and other essential material for the education of children (both girls and boys). The enrollment of the school is more than 175, but it lacked all the facilities. During heavy rains the faculty of the school hadno option other than to make it a holiday. The stipulation was continuously effecting the education of 175 children mostly belonging to underprivileged families.
Location: illage Ain Ban, Unoin Council Chakahama, District Hattian Bala, Azad Jammu Kashmir
Primary School- Completed in 2013 by KRDF
175 children studying.
Constructed on government land after acquiring NOC
Teachers provided by KRDF
Stationary, books and other items also provided by KRDF
Primarily run by KRDF
During the earthquake of October 2005, this school was completely razed to ground

We stepped up and school was rebuilt by KRDF. Project was funded by: 'Welwyn Garden City Quakers, UK' whose representatove Mr Phil Mcowen inaugurated the school.