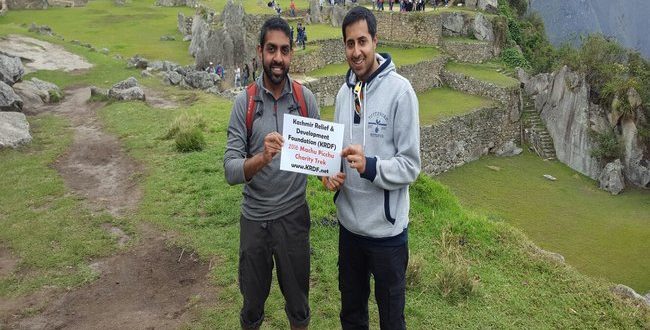 Shiraz's & Zubair's Machu Picchu Charity Trek
APPEAL FROM SHIRAZ & ZUBAIR
Fundraising for Kashmir Relief & Development Foundation (KRDF)
Established in 2005 after the devastating earthquake that left over 70,000 people dead and almost all education infrastructure destroyed, it has successfully built schools for children, helped thousands of women by providing them free vocational training and have helped many remote areas by providing fresh water supply.
The Charity has been a great success so far, but in order for it to grow, they need more money.
The money you donate will help fund the schools that are currently running and more importantly provide fresh water supplies in remote areas where it's impossible to have any accessibility to any sort of transport.
Unfortunately, there are very few charities that provide any help to the people of Kashmir, so your generosity is needed and any donation would be much appreciated.
About our Trek – Machu Picchu is a 15th century Inca citadel situated on a mountain ridge 8000ft above sea level. One of the Seven Wonders of the World located in the Cusco Region, Peru. Many people around the world travel to this beautiful destination via trekking. The Salkantay Trek is a difficult 5 day 4 night trek to reach Machu Picchu. At an altitude of 13,000 feet (peak) this will most definitely cause altitude sickness and requires acclimatisation and training.
We will begin the trekking on the 15th October and complete on 19th October.
Please donate for their effort on —> https://www.gofundme.com/2r3bgrg
Once again many thanks for your support.
Shiraz's & Zubair's
Help spread the word!